The innovative structure of CEU Executive MBA offers a unique multi-campus experience. Combine the network and energy of Vienna during our spring, fall, and winter modules with the relaxed ambiance of Budapest during the summer!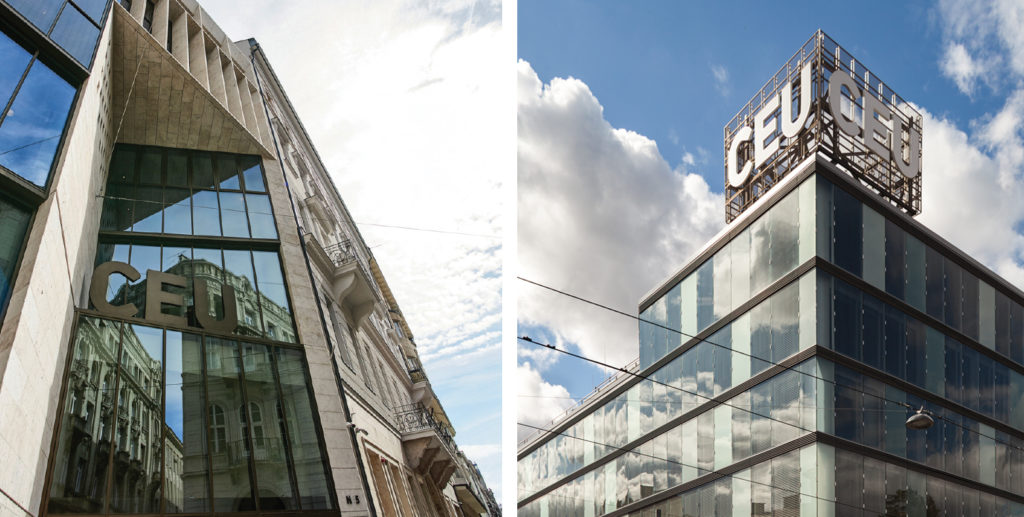 Designed for Learning
In both cities, CEU benefits from its modern urban campuses designed for learning in the 21st century. Designed by the award-winning architecture firm O'Donnell & Tuomey, our Budapest campus was shortlisted for one of the most prestigious architecture awards, the RIBA International Prize. Executive MBA classes are taught in a mix of tiered classrooms, conference- style auditoriums and smaller rooms for electives. Multiple study rooms are also available for team breakout sessions.
Both campuses feature access to one of the largest English-language libraries in continental Europe, with nearly 400,000 hardcopy and e-books. Our campuses also feature multiple canteens, cafes, common spaces, a Sports Center and a stunning rooftop garden.
Accommodation Options
Both in Vienna and Budapest, we offer our participants a variety of attractively priced accommodation options in hotels and the CEU Residence in Budapest. Our partner accommodations are within 30-minute maximum commute by public transport, but we also offer options that are within 15-minute walk from the campus.  
Experience the Open World
All our modern facilities are only the backdrop for what is really important. Our campus life is defined by tolerance and diversity, by skepticism towards dogmas and hierarchies and by a voracious appetite for rational discussion. When you enter the CEU campus, you will be challenged by fellow graduate students from 120 countries and a world-class faculty from over 40 countries.
Campus Life
Apart from your interactions with fellow Executive MBAs, your multi-campus experience will also be impacted by master and doctoral students from a wide variety of disciplines. CEU campus life involves, on average, two academic events (presentations, seminars, guest lectures) a day and numerous social activities. Of particular relevance for Executive MBA participants are the events and other activities centered around our award-winning business incubator, CEU InnovationsLab. You will also be eligible to join a wide variety of student clubs, including the Finance Club, Music Club (organizing regular concerts), numerous sports clubs and the Spectrum LGBTQI+ Club.
Become a Community Member
In allowing you to be a member of an active and diverse academic community, we differ from programs that treat mid-career MBA as a standalone, self-contained experience.
We recognize that CEU Executive MBA may be the only opportunity to truly "go back to school" and take a more deliberate, structured perspective on your professional and personal development that you may have in your career. Our two modern urban campuses give you the perfect environment to benefit from that crucial intellectual juncture of your life.