The World is highly Connected. That Brings Benefits and Risks.
23 April 2021
"What COVID shows is that the world is very connected, and this connectedness has introduced, alongside big benefits, some risk to everyone," points out Prof. Tomy Lee, member of the Finance and Accounting Faculty Group at CEU Executive MBA and the keynote speaker at the April 26 Vienna Open Day, in his interview with Thomas Lammel.
Thomas Lammel, CEU Executive MBA Senior Program Manager:  You have dedicated your academic career to the study of financial instruments, especially over-the-counter markets. Where does your dedication for this topic come from?
Prof. Tomy Lee: I'd say it's more of an intense interest. This comes from, honestly, how weird financial markets are. Take stock exchanges vs OTC markets. Exchanges – Nasdaq or whatever – are very efficient, all online, real-time prices, and so on. But on the OTC markets, people hardly know who's trading, no one knows the prices, whether anyone is selling or buying, some trades are still done over the phone. Guess which market is way bigger — the OTC market! These kinds of puzzles are very interesting to me.
Thomas Lammel: Your studies and models of financial instruments are published in leading academic journals in the world. What is the process of developing a new idea that could later change the conventional wisdom in your discipline?
Prof. Tomy Lee: For me, I take some fact from the real world – an "empirical fact" – that seems a bit odd and poorly explained. Then I see if I can explain it some way and the project naturally evolves from there. Many such ideas don't work out – I try to have a bunch and whittle them down to something exciting.
Thomas Lammel: You've come to CEU and Vienna from Canada – one of the most diverse and progressive countries in the world. Do you find our academic environment here as diverse and lively as the one you experienced in Toronto?
Prof. Tomy Lee: As a relative newcomer to CEU and Europe, I must say CEU behind the scenes is constantly pushing to include those that don't look like, historically speaking, everybody else at the university. Our department discusses the diversity of students and faculty in almost every meeting, and are trying this and that to get with the times. Our recent hires, of course including myself, and our Executive MBA class show that it's working.
Thomas Lammel: The world is experiencing unprecedented challenges due to the Covid-19 pandemic. What advice would you give to people who consider applying for CEU Executive MBA in this difficult time?
Prof. Tomy Lee: What COVID shows that the world is very connected, and this connectedness has introduced, alongside big benefits, some risk to everyone. Given this,
If I were choosing a degree, I would choose one that gives as much flexibility as possible. To me, that means a focus on skills that are easily transferable to many jobs and a possible exit to many places in the world if opportunities arise.
At CEU, our Executive MBA has a strong focus on analytical and technical skills. The degree is accredited both in the US and the EU. It might also help that, thanks to our generous endowment, the program is very affordable given the quality of the faculty.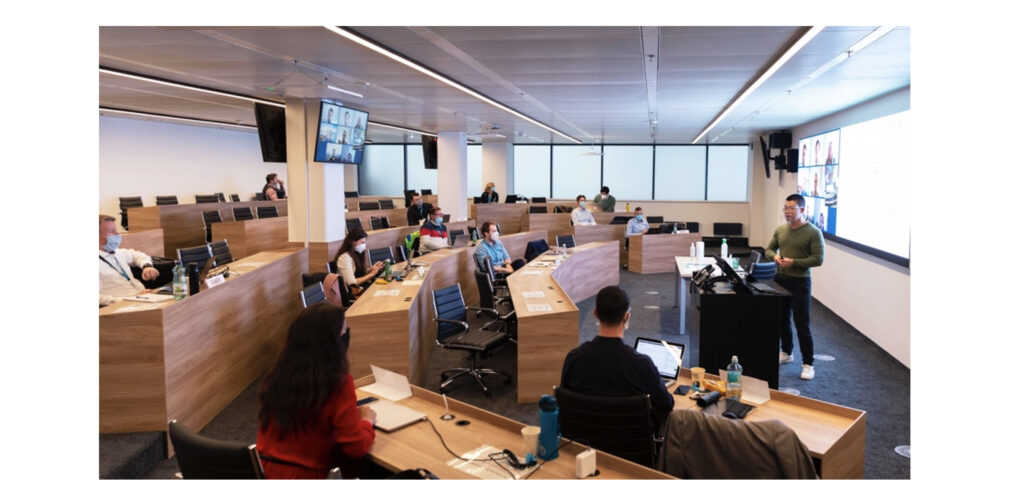 Thomas Lammel: Plunging economies, bear stock markets, businesses in irreversible decline. At the same time, booming new industries and some companies, for instance Amazon, achieving record profits. We're certainly living in interesting times. Can you give us a short sneak peak of your talk?
Prof. Tomy Lee: Haha, my talk won't be full of apocalyptic predictions or euphoria! It'll be about an important, and weird, puzzle in financial markets, and an explanation we came with that can also explain another rather strange empirical fact. The goal is to give people a short and sweet appetizer of what we do as finance scholars.
Thomas Lammel: You balance your academic career with a very active lifestyle: working out, biking and doing yoga. Work, academia and private life seem to be, in your case, well-balanced. Do you think this balance also characterizes our Executive MBA Program?
Prof. Tomy Lee: Yes, that's the key idea of CEU Executive MBA!
You get several weeks to go through background material curated by the professors, then participate in highly interactive classes for a condensed long weekend. So, most of the time, you're free to do what you really want, while working on the class stuff when you're free.